A taste of Scotland
Pints you can bank on
The former national headquarters of the Commercial Bank of Scotland hosts a spectacular pub. Michael Jackson offers a list of pubs first-time visitors to Edinburgh should not miss.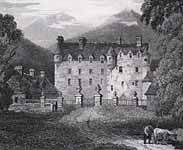 History abounds
For many, Scotland's history is tied closely to its breweries. Traquair House (right) is well known as the oldest inhabited and most romantic house in Scotland and contains a small brewery. Newcastle, where popular Newcastle Brown Ale is made, is thought to be the first place in Britain to brew beer.
Make mine heather
People have appreciated the taste of heather since Neolithic times, when it was used in fermented drinks on the island of Rhum. Heather ale was probably the "magic potion" that rendered the Picts so frightening to the Romans.

Pick a champion
While heather ale is one choice for Burns' Night, some will choose to celebrate Burns' love of barley with the a "bere."
How to celebrate Robert Burns Day
Here's a complete plan to celebrate the day, including a menu, Scotch recommendations and schedule of events.
The flavor terminology of whisky
Malt whisky is the most complex spirit on earth. Try a simple test. Take five glasses and pour small measures of rum, gin, cognac, bourbon and malt whisky. Swirl and sniff each in turn and write down any scents you can distinguish. Dilute to about 20% alcohol and sniff them again, making notes. At the end of the experiment, you will probably be stunned by the length of the malt list.
The ghosts of distilleries past
Michael Jackson explores rare single malts no longer in production, but now on sale. Many makers of alcoholic drinks like to label their products "very rare," but these whiskies are more obscure than that. These spirits are ghosts.
The Secrets of Single Malt
Stephen Beaumont shares a number of new and interesting facts related to single malt.