Japan and its beers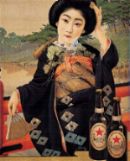 Michael Jackson hops from one brewery to the next and Japan and offers a lengthy list of suggested drinking places.

Michael Jackson discovers still more interesting beer blossoming in Japan. He writes: "This was not Buxton or Malvern. It was another small town where the railway rattles into the station among souvenir shops, bed-and-breakfasts and hotels: Yufuin, among the mountains of Kyushu."

Michael Jackson catches up with Ed Tringali, who has gone so far West as to have reached the East. Like a true Seattleite, he has embraced the Pacific rim. He has become a traveling beer-maker in Asia, helping set up small breweries in places like Japan, Hong Kong, the Philippines and India.
Search

Find whatever in the beer world you are looking for. Enter a search word or phrase, then click GO.




ADVERTISEMENT