GABF brewers' diaries
Vinnie Cilurzo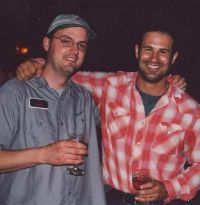 Vinnie Cilurzo, left, and Sam Calagione of Dogfish Head Brewing know a little bit about hoppy beers.

Cilurzo recently purchased Russian River Brewing Co. from his former employer of seven years, Korbel Champagne Cellars. He is just finishing construction on a new brewpub for his brewery in Santa Rosa, Calif. This will be the 10th year at the Great American Beer Festival for Vinnie and his wife, Natalie. He is a 10-time medalist at the GABF and in 1999 was awarded both the Small Brewing Company of the Year and Small Brewing Company Brewmaster of the Year. Cilurzo is an avid producer of big hoppy beers and Belgian style ales.

» Aug. 25
"I don't actually have a brewery to call home because we are in construction."

» Sept. 2
"Who knows, maybe next year I will bring two different 'wet' hop beers to the GABF."

» Sept. 3
"I do not look at the 2003 GABF as a year where I may win an award, and in truth I go into each GABF thinking I'm not going to win anything."

» Sept. 7
"On the bright side for the consumer, I'm creating a lot of new beers recipes on my homebrew system."

» Sept. 9
"I guess that's life as a small business owner."

» Sept. 23
"After seven beers, now I have to pack!"

» Sept. 25
"Of course, after the Babble Belt tasting we made it back to the Falling Rock where I actually got a fair amount of business done."

» Sept. 29
"My final thought about the GABF is a big congratulations to my good friend Tomme Arthur from Pizza Port, who won the Small Brewpub Brewmaster of the Year."