GABF brewers' diaries
Jeff Bagby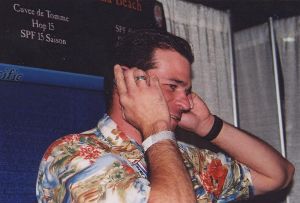 Jeff Bagby calls friends after the GABF awards ceremony.

Jeff Bagby recently took the position as head brewer at Oggi's Pizza and Brewing in Vista, Calif. After graduating from the University of Santa Barbara California with a degree in Communications, he returned to his San Diego home to begin a job at the Stone Brewing Co. He spent a few months delivering beer, then was offered a job in the brewery and worked there for about a year and a half. After a year out of the brewing industry, he spent eight months at a sale consultant with White Labs. He returned to brewing as an assistant to Tomme Arthur at Pizza Port in Solana Beach. Since taking the Oggi's job in July, he continued to work part time in Solana Beach as a brewer and a bartender. "I've also enjoyed traveling to festivals and events all over the country. Along the way I've had the pleasure of meeting several great people in this industry," he says. "That is definitely a big reason I'm still working as a brewer."

» Sept. 22
"For the first time ever I will be going to the GABF having entered beers into competition that are completely my own."

» Sept. 28
"I can't wait until next year!"