GABF brewers' diaries
Tomme Arthur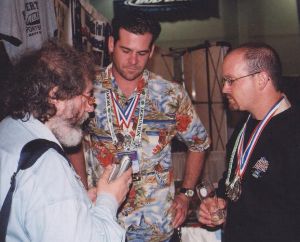 Tomme Arthur (right) and Jeff Bagby explain how Hop 15 was brewed to author

Michael Jackson

.

Arthur is the head brewer at Pizza Port in Solana Beach, Calif. This is his 7th GABF as the head brewer for Pizza Port in Solana Beach. It also marks the 9th time he has attended this great party. He is a three-time GABF medalist and GABF judge as well.

» Sept. 7
"It's that time again."

» Sept. 10
"Giving each bottle more time to mature afforded us the ability to taste multiple bottlings before settling on the beers we wanted to send."

» Sept. 14
"Thankfully, we had three versions to pick from. In years past I have had to send the draft version of this beer, and it certainly is one the beers that benefits from bottle conditioning."

» Sept. 16
"All of our GABF beers are now gone. It is a major source of relief since there is nothing we can do now but show up and party like rock stars for a couple of days."

» Sept. 18
"It can be very challenging for a beer to make its way through all these rounds but if it does, you can rest assured that it is one hell of a beer."

» Sept. 20
"A medal is something that hangs on a wall. It doesn't make friends, it doesn't share stories and it most certainly won't be buying me a beer on Saturday night."

» Sept. 25
"Today I have a morning session with American Premium Lagers and Barrel Aged Beers with other Strong Ales and Lagers in the afternoon."

» Sept. 25
"My favorite beer of the night was the Trappist Pale Ale from Southampton Brewing Co. Phil is an old friend and his beers are fantastic. This one is a winner for sure."

» Sept. 26
"Sadly, someone kept us from our Crazy Horse this year and I was distraught by the news. It is a rare pleasure to sample so many malt liquors in one place."

» Sept. 27
"After coming off the stage, I felt that we had an amazing day. I knew that the Brewery of the Year awards were still to be awarded. The funny thing is that we had no idea where we stood."

» Sept. 28
"At 12:30 Sunday afternoon, it finally hit me."