American Beer Month
Beer tasting 101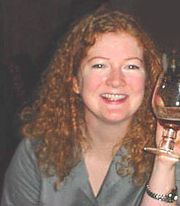 Lisa Morrison -- who has received national attention for the Beer Appreciation for Women course she teaches at Portland Brewing -- leads her first Internet tasting.

Welcome, students, to our inaugural Virtual Beer Tasting 101 class.

Although I've been teaching "beer appreciation" classes for a couple of years now in Portland, Oregon, this is the first online beer tasting class I've ever taught.

I hope you learn as much as I expect to!

Before we get started, let's make sure we have all our materials. Remember when Mom or Dad would take you to the store to get the supplies your homeroom teacher required before you started school each fall? This is sort of like that.

Required Materials:
Some friends (who wants to taste beer alone?)
A tasting glass for each class member
A pitcher or two of water for drinking and rinsing glasses between tastes
A receptacle for dumping beer and rinse water (Hey, not everyone likes every beer -- that's why there are so many styles!)
Tasting grid (Left click to see, right click to download directly to your computer. You should print one out for each class member)
Pen or pencil for each class member
Recommended beers -- at least one 12-ounce bottle for every 2-3 people (see the list to do your shopping)
Crackers and/or bread to cleanse palate between tastes
Extra credit: Get some malt grains and whole hops from a local brewery or homebrew supply store for participants to smell and taste (taste the malt only!)
The great thing about being a beer-tasting instructor is I get to taste right along with you. The breweries of the beers I will be tasting span the country. You might not be able to get all the beers on my list, so we have put together a list of alternative beers for each style. With minimal effort, you should be able to find at least one example of each style on the list.
After you've gathered all your supplies, it's time for some serious research. Make sure all your supplies are handy for class, get your friends, er, fellow classmates, together and get ready for Study Hall.
What's next
Ready, Set, Taste!
The tasting grid, the ground rules, and how to use the grid.

The beers
Taste Deschutes Brewery Pine Mountain Pils, Tabernash Weiss, Allegash Double, MacTarnahan's Black Watch Cream Porter, Old Dominion Tupper's Hop Pocket IPA, and Bell's Expedition Stout -- or the alternative beers of your choice.