American Beer Month
Both brewer and winemaker
There's an old saying that farmers make wine and engineers make beer.
Mark Matheson is neither a farmer nor an engineer, but he's the brewer at Turtle Mountain Brewing Co. in Rio Rancho, N.M., and the winemaker at Santa Fe Vineyards north of Santa Fe.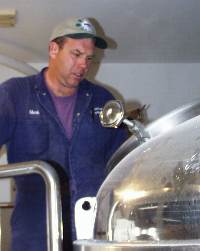 In an average week, he'll be at Turtle Mountain two days, Santa Fe Vineyards two days and spend several days dealing with customers of the computer consulting business he operates. "It can get a little intense at times," Matheson said. One of those periods is coming soon - when the New Mexico wine harvest begins in mid-August and lasts for 6-8 weeks.
"We'll crush 60 kinds of grapes," he said.
At the same time, he'll have a double batch of Oktoberfest in the system at Turtle Mountain, a lager that requires a little more loving care than most of his beers.
Matheson started homebrewing when he was in high school in Stockton, Calif., but really has more experience as a winemaker. He began working in the school vineyards in junior college, his interest tweaked by Lloyd Martel - who is well known in California wine circles.
He decided to study winemaking at nearby UC-Davis, at the same time that Dr. Michael Lewis was also nurturing would-be brewers. "Interest in beer was just starting to take off in the mid-'80s, and it was a great program. Brewers like Dan Carey (New Glarus Brewing Co. in Wisconsin) came out of that program," Matheson said.
Matheson managed to get into one of Lewis' labs, which took only 14 students per semester. "It met once a week, eight or 10 hours, you had to clear a little time," he said. It was more than a half dozen years before he began to use the experience professionally.
Matheson worked in wineries in both California and New Mexico, and met and married his wife while in New Mexico before moving back to California to make wine at the Winterhook Winery, a startup. "My wife missed New Mexico terribly, and we decided we wanted to get back," Matheson said.
To broaden his employment possibilities, he took a job as an unpaid intern at Rubicon Brewing in Sacramento. He'd begin there at 4 a.m., then head to the winery at 7:30 a.m.
"In brewing and making wine anything you do is experience - 'have you seen it before?'" Matheson said. "Whether it is wine or beer I think you have to do it about 10 years to get a grasp. I've gotten to the point with wine, and I hope I'm getting there with beer."
His chance to brew was also his chance to get back to New Mexico. A neighbor of his father-in-law wanted to open a brewpub in Albuquerque, and Matheson ended up with the job. Opening in March 1993, Assets Brewing Co. was Albuquerque's first brewpub and an early success. "We had a seven-barrel brewhouse, and on a Thursday and Friday night we'd go through 10 barrels of amber alone," Matheson said.
However, as more brewpubs opened in the region, the newness wore off, and Assets' business slipped. The owners at Assets decided that they'd rather pay Matheson's assistant than Matheson and let him go at the beginning of 1998.
He got back into wine before beer, starting first part time at Santa Fe Vineyards, then taking over the winemaking. "About the same time, Nico Ortiz approached me and said he was going to open a brewpub in Rio Rancho," Matheson said. "I thought, 'Right, a brewpub in Rio Rancho.' I gave him no chance of getting it done. But Nico doesn't let things go."
By early 1999, Matheson was brewing again. Some of the challenges of his jobs are the same, like dealing with the region's water; others aren't.
"They are both fermentation," he said. "And yeasts are very forgiving if you make sure a few key elements are right. But in wine - and some wineries will get mad when I say this - yeasts aren't an important part of the taste. In beer, they may be part of the flavor profile."
Winemakers learn to deal with a different crop of grapes every year, while brewers count on consistency in malt.
"With wine you get that one shot. If you screw up, it's a long wait, but there are some things you can do to fix it," Matheson said. "You cannot fix bad beer. You have to dump it down the drain."
That must be the engineer talking.