American Beer Month
Grilling with beer
Beer and BBQ - a match many people know from backyard picnics, tailgating and summertime dining. But as an ingredient, beer brings malty sweetness, the gentle acidity of hops, plus a bite from yeast - a perfect addition to BBQ mops, marinades, and basting sauces.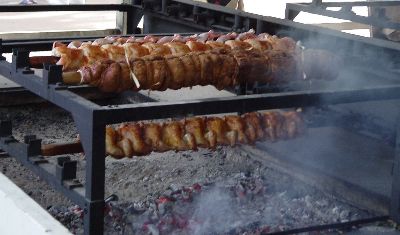 That's because beer is less acidic than wine or vinegar, more flavorful than water or stock, yet adds the liquid needed to keep foods from drying out during cooking.

When you need ribs that are moist and tender, mop them with a blend of melted butter and beer, seasoned with hot pepper. So simple, yet so tasty.

BUTTERY BROWN ALE BASTING SAUCE
Got a homebrew that's rich in diacetyl? Add it to this sauce.
1 stick butter, melted (1/2 cup) and simmered until lightly golden brown -skim off the browned bits. Let cool. Mix in:
12 oz. amber or brown ale
2 tablespoons Worcestershire sauce
2-3 tablespoons Louisiana hot pepper sauce
Dash white ground pepper to taste
Blend well, and use as a mop frequently while cooking ribs.
© Lucy Saunders 2002

Crave chicken that's juicy and falls off the bones? Perch it on a throne of beer on the grill, and you'll get the best bird ever.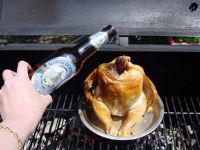 In Texas, brewer Sam Healey slides a chicken on top of a half-full can of Lone Star, places it upright on the BBQ, covers it and cooks it for 2-3 hours. After it's done, lift the bird with large tongs, can and all, onto a deep, rimmed serving platter. Carefully remove the beer can with the tongs, to avoid being scalded by hot brew.

Love seafood? Plunge the fish in a marinade of olive oil and weiss bier, with a bit of sweet Vidalia onion, thyme and grated lemon zest, and you'll have delectable results.

SEAFOOD WEISS MARINADE
½ cup olive oil
1 tablespoon grated lemon zest
2 teaspoons dried thyme
½ teaspoon celery seed
½ cup minced sweet Vidalia onion
12 oz. weiss beer
Blend all ingredients in a zip-seal plastic gallon bag - add fish filets, and marinate refrigerated for 2-3 hours or overnight.
© Lucy Saunders 2002