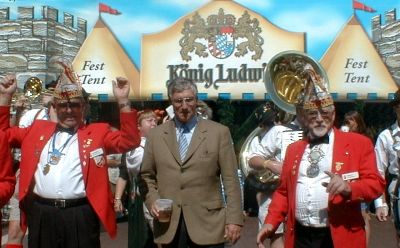 6 questions for a beer Prince
Sept. 23, 2002

Prince Luitpold von Bayern, the Crown Prince of Bavaria, was in Cincinnati this past weekend to help celebrate the 27th Oktoberfest Zinzinnati.
A replica of the prince's Bavarian castle was erected for the festival, and he posed for pictures with people, signed autographs, and talked about his König Ludwig Weiss at the Warsteiner Festival Tent. The castle he lives in was built in in 1670 and remodeled in neo-Gothic style in the mid 1880s. Commercial production of beer there began in 1872, and Prince Luitpold has run the brewery since 1976.
The prince took a few minutes to answer six questions from Realbeer.com.
1. Why are you in Cincinnati this weekend instead of at the opening of the original Oktoberfest in Munich?
Prince Luitpold: I thought this was a good occasion to go to the second largest Oktoberfest in the world (about 500,000 attended Oktoberfest Zinzinnati during the weekend), and talk about our new product.
Our family started it (the royal wedding of Ludwig I - inventor of the biergarten - in 1810 was the foundation of Oktoberfest), my three times great grandfather, but we not allowed to serve our beer there. Only the beer from Munich breweries is sold.
2. Why did you choose to make Weiss the first beer you exported to the United States? (Shipments began earlier this year.)
Prince Luitpold: We did quite a bit of research, including at our brewpub (the Kaltenberg Castle). For an imported beer, we think it is an excellent choice. We believe Weiss is an authentic style for import and there aren't that many true Weiss beers available.
Why did you choose Warsteiner to be the importer?
Prince Luitpold: We already have a distribution deal with them in Germany, since they are in the North and we are in the South. Warsteiner has an excellent network in the United States and we are able to put our beer in the same container (shipments). Up to now, our sales have gone very, very well.
Do this mean we will see more König Ludwig beer in the United States? Perhaps the (highly praised) Dunkel?
Prince Luitpold: I think you will see us come to the United States with more styles, but that is a ways off. (About the Dunkel) we will wait and see. It is available at the brewpub and has done extremely well.
3. When you aren't drinking your beer, what do you drink?
Prince Luitpold: It depends very much on the situation. When I travel I test other products, look for good ideas. It depends what country I'm in. In Eastern Europe they want to give you vodka at lunch, but we are doing a good job to educate them that beer is better for you.
I'm always a friend to the small brewer. I think there are some excellent small breweries in England. As a German, people think I wouldn't appreciate English beer.
(In the United States) I have many quite good friends. I think Dan Gordon (of Gordon Biersch) is a very good brewmaster. I've had excellent beers (in the U.S) - it's really a question of if people care about what they are brewing.
4. Is the Reinheitsgebot (the German beer purity law of 1516 that states that hops, malt and water should be the only ingredients in beer) relevant to today's beer drinker in Germany? Elsewhere?
Prince Luitpold: I think so. Who wants a beer that is not 'rein'? That is not pure? The imported beers no longer have to meet the law, but up until now they have not made any progress in our market. The only imported beers that have (succeeded) are some Czech beers, and they are pure.
5. Which is cooler? Living in a castle or living over a brewery?
Prince Luitpold: I think the combination is ideal. The castle can be quite cool at times and it is nice to be able to walk down and get a beer. In a winter we do a bock beer of 22° gravity. It's sold only to pub to sell on draft, but I will go down to the cellar and get a beaker right out of the cask. That's where beer tastes best.
6. What lessons have you learned from working in the beer business?
Prince Luitpold: First you have to be 100% honest about the beer you sell and make it a quality product. Product quality is No. 1, No. 1, No. 1. We believe it doesn't make sense to save on (raw) materials.
You have to be very close to the consumer. I tend to be out in the marketplace as much as I can and see how the consumer reacts to our products. Name doesn't really matter to a customer if you serve him a bad beer - he will never drink your beer again.