Six questions for Pete Slosberg
Oct. 22, 2002

Pete Slosberg, one of the most visible of the early microbrewering pioneers, makes chocolate these days instead of beer. He's launched Cocoa Pete's Chocolate Adventures, which currently sells disinctive chocolate in California.
Slosberg created Pete's Wicked Ale and started Pete's Brewing Co. in 1986. That grew to be the nation's second largest microbrewery by the time it went public. Slosberg served as an ambassador for the small brewing industry, enjoying enough adventures to write a book, "Beer for Pete's Sake."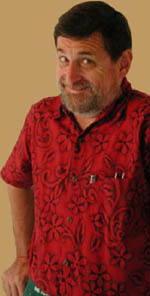 For two years after Pete's was sold to the Gambrinus Co., he continued to work as a spokesman for the brand. That relationship has ended, and he has embarked on his new business. Real Beer caught up with him at the Great American Beer Festival and he took the time too answer a few questions.
1. Why chocolate?
Pete: I had such a good time taking my hobby, homebrewing, and creating a company that I told myself, when I did something else, it would be something I'm passionate about. I love basketball, but alas, my abilities are still and will forever be amateurish. I also love BBQ, chocolate, and cigars. I actually researched a BBQ business with a team from UCLA's graduate school of business and discovered that what I wanted to do was too technically risky, so I didn't pursue it. Chocolate was another passion, but it took the events of Sept. 11 to get me to move on it and it has expanded to where we are today.
Chocolate is a lot of fun to work with, similar to home brewing. You can work on sweet/bitter combinations as well as other flavors working with the basic chocolate. You literally become an artist, working with a palette of sensory inputs. Temperatures and timings are critical as with beer. Chocolate, though, is a lot messier to work with, but licking the splatterings is fantastic!
Do you think this will ever get as big at Pete's Brewing did?
Pete: Who knew in 1985-1986 that the craft beer segment would get to almost $4 billion in revenue? We thought we could catch a wave by getting in early and making world-class products and have some fun. We got to $70 million in revenue in our peak year. Our analysis of the premium chocolate segment reminded me of the beer market in the mid 80's and I hope that there will be a similar wave for premium chocolate bars. That is our bet. Again, we want to make world-class product, but not take ourselves too seriously.
Do you think it can be as much fun as beer?
Pete: Are you kidding? Chocolate is every bit as much fun as beer. People get so passionate over both and you don't have to worry about DUI!
Do you miss being a beer ambassador?
Pete: I still haven't lost touch with beer and being a beer ambassador. I used to do my beer education seminar for wholesalers, retailers and consumers as part of my job. I continue to do them as a means to raise funds for non-profits. People still want to hear about beer and I can help get money for some local non-profit projects. I still go to Belgium and try to meet brewers and see breweries.
2. What beers are you drinking these days?
Pete: I love strong beers. Quality in a sipping glass. Not quantity. I have brought back a ton of product from Belgium and look for other strong beers available locally — whether they be barley wines, double bocks, double IPAs, and of course, smoke beers.
3. Do you ever homebrew anymore?
Pete: No more homebrewing as my free time is spent developing chocolate recipes. Hey, there isn't a lot of free time at a start-up.
4. In "Beer For Pete's Sake" you list favorite myths. What is your favorite beer myth?
Pete: Beer myths are fine, but word/phrase origins are my favorites. Rule of Thumb, Getting off Scot Free, pitcher, etc. Now these are fun stories. This led to my discovering the source of a non-beer term, "the whole nine yards" or "dressing to the Nines". A standard full British suit utilizes 9 yards of material!
5. What life lessons have you learned from beer?
Pete: I think that the most important lesson is that in our culture/business environment, big companies, in order to get bigger, dumb down products. In the case of beer, which I never liked growing up, they make beers so light in color and flavor, that Americans got used to it, yet would talk about how good European beers were when consumed over there. We are led to put up with garbage/blandness because the players that try to make flavorful products get dominated by the big guys. It's nice to know that Americans flocked to micros (even if the category is only about 4%) when they became available.
The other lesson is that even though 1,500 craft brewers are in a sense competitors, the fraternity of brewers is so fantastic that many many friendships have been made.
6. Do you think consumers are more willing to spend more for beer than they were in 1986?
Pete: Holy Moley! They are paying a significant amount more for Corona and the volumes went through the roof.
The great news now, versus 1986, is that you can go to any city in the US and be assured that you can find some great beer. This is a huge change.