Mead
Thanks to Julia Herz at Honeywine.com for her guidance and assistance in compiling this section.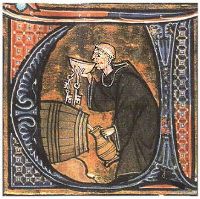 Made from honey, a food dating back 14 million years by some accounts, it seems very appropriate that Meads origins, shrouded by eons of history and mystery, are uncovered in virtually every level of the development of civilization. Considering the possibility that a crude form of the drink could easily have spontaneously occurred through ingress of water and naturally occurring yeast, it could be the first alcoholic beverage to pass the lips of man.

Known by many names and as different as individual snowflakes, Mead is a global beverage. Predating both grape wine and beer, it's known in various forms on every continent on Earth. Mead is perhaps best known as the preferred drink of Vikings and Celts, beloved by re-enactors everywhere as the authentic drink of the medieval times.

making your own. Jadwiga and Kurpiowski.