10 great Irish pubs
Each Friday, the national newspaper USA Today runs a "10 great ..." list. Before St. Patrick's Day of 1999 they asked Beer Travelers Stan Hieronymus and Daria Labinsky to pick "10 Great Places to Toast the Luck o' the Irish." Here are the ones they chose and what they had to say.
Brendan Behan's Pub, Boston, Massachusetts
"Exactly what you'd expect an Irish pub to be: too small to be a tourist trap, rather dark, with a low ceiling, and walls covered with tattered theater posters, black-and-white photos of County Kerry and portraits of the bar's namesake poet. There's also a directional sign to Uaghna Mna Moire (Long Woman's Grave). The pub's T-shirts bear the Behan quote, 'There's no place on Earth like the world.' Where you might expect to find a TV, there's a fish tank filled with tiny sharks."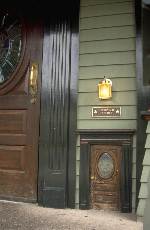 Coleman's Irish Pub, Syracuse, New York
"Coleman's, located in Tipperary Hill, Syracuse's Irish enclave, has been around since 1933. It has a separate door for leprechauns. A tanker full of green beer is delivered the first Sunday of March, and at noon everybody in the place gets one free green beer. Coleman's opens for breakfast on St. Patrick's Day and shuts the door once the place is full. Then you've got to wait for somebody to leave before you may enter."







Doyle's Café, Boston, Massachusetts
"Doyle's has been around since 1882. Murals, World War II posters, photographs, newspaper clippings, a dining room dedicated to Irish freedom fighter Michael Collins, another room that pays tribute to John 'Honey Fitz' Fitzgerald (JFK's grandfather) -- they're all here. There's a story that a customer rode in on horseback one St. Patrick's Day, ordered a drink, rode around the inside of the bar and left."
Fado Irish Pub, Atlanta
"The Irish Pub Co. has built more than two dozen pubs in the United States and hundreds around the world, shipping the building parts from Ireland. This was the first pre-fab pub. The offspring are known as Fado in many places, but also by other names such as Dick O'Dow's. Some stick to a single theme, but this one has five theme areas: Dublin, Victorian, Country Cottage, Pub Store, Gaelic and Brewery."
Kells Irish Pub, Portland, Oregon
"On the one hand it's an excellent dining spot with a killer single-malt whiskey menu. But Kells also has a terrific 40-foot-long bar with cast iron pillars, offers real darts and shows Irish soccer and rugby on the television. Kells is also home to the largest Irish festival on the West Coast."
Kelly's Irish Times, Washington, D.C.
"The welcome sign reads, 'Give me your thirsty, your famished, your befuddled masses.' There's a picture of Richard Nixon shaking hands with Elvis over the bar. Kelly's Irish Times is a popular bar for politicians, Irish and otherwise. It was a St. Patrick's Day favorite of President Ronald Reagan."
McGonigel's Mucky Duck, Houston, Texas
"A well-kept pub that manages to be lively without being rowdy. The Mucky Duck has great live music most nights, mixing singer-songwriters from the U.S. with folk music from around the world, including Ireland, and there's an open mike night each Wednesday."
McGuire's Irish Pub & Brewery, Pensacola, Florida
"What started as a small pub grew to become a repeat winner of Florida Trend magazine's Golden Spoon award, designating it as one of the top 20 restaurants in the state. The eclectic decorations include a giant moose head, a Notre Dame room and more than 150,000 signed dollar bills fluttering from the walls and ceiling. Among the beers brewed on the premises is a creamy stout."
O'Flaherty's Irish Channel Pub, New Orleans
"O'Flaherty's is actually in the French Quarter, rather than in New Orleans' historic Irish Channel neighborhood. There's Irish music every night in the music room, a great courtyard and a separate poetry room. O'Flaherty's celebrates Celtic Christmas in high style."
The Parting Glass, Saratoga Springs, New York
"The dart hall is a separate room with 14 boards. The Parting Glass has an excellent music room, and Irish folk music is one of the mainstays. 'Breakfast & Backgammon' each Sunday features a very large Irish breakfast."
Still looking for an Irish pub? Here are 300 from around the United States.