Oktoberfest in North America: 2008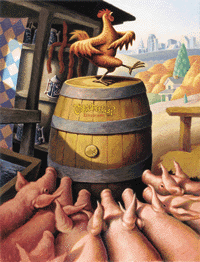 Zinzinnati Oktoberfest poster
In the years following World War II, German-American societies used Oktoberfests to build positive images of Germany. Today, there are literally thousands of "Oktoberfest" celebrations in North America, ranging from giant community festivals complete with the traditional trimmings to parties at bars that include neither German beer nor German music.
There are great festival from Helen, Ga., to Amana, Iowa, and from Grand Prairie, Texas, to Fort Lauderdale, Fla. Many combine tradition and something a little different. For instance, Altamont Schuetzenfest in Southern Illinois has a beer garden and German music but also trap shooting.
Here are a few large and outstanding ones. You'll find even more Oktoberfests and other beer celebrations in the Real Beer Events Calendar.
Cincinnati, Ohio
Sept. 20-21
Oktoberfest-Zinzinnati claims to be the largest such celebration in the United States with 500,000 attending. Seven stages feature live entertainment, and 90 booths will be serving up authentic German food, beer, wine and music. Made the Book of World Records in 1994 for the largest chicken dance in the world (48,000 participants). The Over-the Rhine area, the heart of the city's 19th-century German-American community, has been revitalized and is worth a visit any time of year.
Details
Columbus, Ohio
Sept. 5-7, held in German Village
Four stages plus music and entertainment throughout German Village. German Village is the largest privately funded historic neighborhood in the United States-233 acres of "living" history and a reputed architectural style showcasing carved limestone lintels, clay chimney pots, and slate roofs.
Details
Frankenmuth, Michigan
Sept. 18-21
In 1995 Christian Ude, Lord Mayor of the city of Munich, Germany, and Hermann Memmel, member of the German parliament, signed a Certificate of Ennoblement, which pronounced Frankenmuth's Oktoberfest as the first such celebration outside of Munich to operate officially under the auspices of the City of Munich.
Details
Fredericksburg, Texas
Oct. 3-5
Founded in 1846 by German settlers, Fredericksburg was named after the Prince of Prussia. More than 25 bands will offer music continuously, a special new exhibit area will showcase local artisans, and children's entertainment will not prevent adult enjoyment of German beer.
Details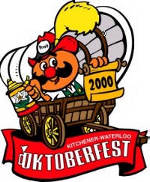 Kitchener-Waterloo, Ontario
Oct. 10-18
Celebrated in more than 20 halls in a two-square-block area of downtown, the festival also features a costumed archery contest. Attendance for the week-long activities is expected to top 700,000. Settled in 1805 by Pennsylvania Mennonites, the area was called Berlin and Waterloo in the 1850s. Berlin was changed to Kitchener during World War I, after Lord Horatio H. Kitchener.
Details
La Crosse, Wisconsin
Sept. 26-Oct. 4
Held since 1961 and now attracting 175,000 annually. Parades highlight the events, including a three-hour Maple Leaf Parade, Kids Day Parade, and the Torchlight Parade on the last evening of the festival. Eight breweries in La Crosse were German-owned or operated in the late 19th century. The Temperance movement was never embraced in the area. In 1896 one bar existed for every 120 adults.
Details
Leavenworth, Wa.
Oct. 3-4, Oct. 10-11, Oct. 17-18 in Festhalle, downtown
Featuring beer and music directly from Germany. Leavenworth is a "Bavarian" village tourist town featuring frequent Bavarian related activities.
Details
Mount Angel, Oregon
Sept. 11-14
Billed as the "oldest and largest folk festival in the Pacific Northwest" and celebrating its 40th anniversary, the Mt. Angel event commences with a traditional German Webetanz, or May pole dance, performed by local school children. Entertainment continues on four music stages and at the 60 food booths. About 350,000 are expected to attend.
Details
Seattle, Wash.
Sept 19-21
The big draw is an event for adults called "The Texas Chainsaw Pumpkin Carving Contest." But you'd expect something different in a neighborhood that bills itself as the center of the universe. Fremont Oktoberfest includes beer from 25 local breweries. The music is eclectic, but each band is required to play at least one German song in their set. There's pumpkin carving for the kids as well as adults.
Details
Torrance, California
Sept. 12-Oct. 19
Held at Alpine Village Park, this Oktoberfest is the largest in southern California, drawing nearly 100,000. Besides German oom-pah bands, entertainment includes contests like yodeling, pretzel-eating, woodsawing, and beer-stein holding.
Details
Tulsa, Oklahoma
Oct. 16-19
Bon Appetit magazine calls this one of the top German food festivals in the world. About 200,000 turn out for Bier Barrel Racing, carnival rides, a Polka Mass, a Volksmarsch and more. In its 28th year, held along the Arkansas River at the River West Festival Park. More than one in five Tulsa residents claim German heritage.
Details