Teach a friend to homebrew
The American Homebrewers Association's began Teach a Friend to Homebrew Day in 1999, and it since has become an annual event. Before the first one, Paul Gatza, director of the AHA, answered questions about the event for Real Beer in an email interview.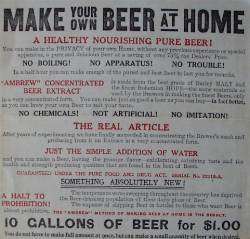 An advertisement for brewing supplies during the early 1900s. To see it enlarged click here.

REAL BEER: Can you describe what you expect will be a "typical" experience (or two) on Teach a Friend to Homebrew Day?

PAUL GATZA: My vision for Teach a Friend to Homebrew Day is that a current brewer will find an interested friend to show them the ropes. The day starts with a trip to the local homebrew shop on or close to (the day), to select the ingredients for the batch and introduce the potential brewer to the shop owner. Homebrew shops are fun, friendly places that show a new brewer there is a support network of people who love good beer. At the shop I would hope the teacher and student decide on a style or a commercially available beer to clone.

The brewers go to the house of the experienced brewer and they start up the kettle or mash tun and discuss the process. The teacher involves the brewer in all stages of brewing, cleaning and bottling or kegging a few weeks later. As the T-shirts of the Weiz Guys say, "It takes beer to make beer." I envision the brewers doing some sampling of previous batches of the teacher's homebrew throughout the day. At the end of bottling I would like to see the brewers split the batch (and the cost).

RB: What sort of preparation should the newcomer do?

PG: The best thing to bring would be a good attitude and an open mind. Brewing is fun, especially in a social setting. The brewer should also think about wearing clean clothes that she or he wouldn't mind getting a little wort or sanitizer splashed on.

RB: What are the possible pitfalls you'd like to see brewers and newcomers avoid?

PG: As a homebrew retailer, the initial experiences of a brewer will affect whether they become a long-time brewer. If the experience is fun and the beer comes out good, the person will continue to brew and become passionate about brewing. If the experience is difficult and the beer does not come out good, the brewer may not be back. Besides the fun aspects of brewing, I would like the teachers to be extra diligent with sanitation issues to ensure a quality product. The other area I would like to see focused on is avoiding the disasters that create nasty work. No boilovers on this day, OK everybody?

RB: Do you envision more of this being done with kits, all grain or something between?

PG: I recommend an extract batch to start in most cases. The brewer will likely be purchasing their own equipment if they decide to stick with it, so I would recommend keeping it on the simpler side in brewing processes and equipment. We are all proud of our gadgets that we have gathered as we advanced in our brewing and love to show them off, but I would save these for later and use as simple an equipment set-up as we used when we started.

There will be a few people who would not be intimidated by the time and details of all-grain brewing. If the person loves beer and you know they will love brewing and the two of you will likely brew together on a regular basis, go ahead and dive in with an all-grain.

RB: And, considering your own interests, what about mead?

PG: I won a bet with my neighbor Rose that if the Sabres won the Stanley Cup, I would teach her how to make beer. If the Stars won, I would teach her how to make mead. So there will be at least a batch of mead going. I have invited several other people over, so we'll probably have a bunch of kettles going with beer and mead. Mead would be a good place to start since the actual brewing process is easier than beer.

RB: Should this be done in the newcomers' homes or do you expect them to be using the brewers' equipment?

PG: I see it in the experienced brewer's home. For those of us who rarely use our 4- or 5-gallon pot as a kettle, now is the time to dust it off. We want the process to be as friendly to a new brewer as possible, so leave the converted keg kettle in the garage for a day. Remember, we don't want to scare people away by the technical nature or the cost of the equipment.

RB: What kinds of recipes do you think are good for starters?

PG: I think what the person likes to drink, perhaps a clone of their favorite commercial beer. Ales are quicker so I'd start with those styles. Having a teacher there should allow the new brewer to avoid some of the sanitation pitfalls that can create some off-flavors in early batches. Normally I recommend a new brewer starting with something darker and complex like a porter or brown ale to hide first-time mistakes, but that is not an issue on (Homebrew Day).

RB: What sort of approaches have homebrew clubs indicated they will be taking?

PG: Some are getting notices of invitation in the local papers and will be doing a clubwide brew day, with lots of kettles and new brewers. Some of the clubs that have participated in the AHA Big Brew have developed local media contacts to get some press for the hobby. Some homebrew supply shops will be having club members brew out in the parking lot in front of the shop.

RB: What are homebrew stores doing to get involved?

PG: Some shops will be brewing in front of their shops, either staff or club members. Brewing at shops usually takes more the form of classes, and is a little less focused on the social side of homebrewing (due to drinking in public laws). Shops are getting in more extract ingredient kits and equipment kits to sell to new brewers on this day and in the succeeding weeks. Some homebrew shops will also be selling AHA memberships, so that new brewers can receive Zymurgy magazine and get hooked into the national brewing community.

RB: Is there any way that people who think they might want to try homebrewing can find a buddy to teach them?

PG: Yes, visit us for the AHA Registered Homebrew Club Index for your local homebrew club and ask if the club or club members are participating in the event. They should be able to steer you to where someone is brewing that day. RB: What do you hope will be the result of Teach a Friend to Homebrew Day?

PG: I hope that current brewers get hundreds of new brewers turned on to the hobby of homebrewing. Our hobby has not seen many new brewers come aboard the last couple of years and it is time for a rejuvenation to happen. I am hoping brewers see this as a fun day of service for the good of the hobby of homebrewing. The more new brewers we have, the more potential homebrew club members will exist in an area, which results in more business and increased product line and freshness in shops, which results in better homebrews being created, which results in more people trying homebrews and getting interested in brewing themselves... The relationship is circular in an ascending manner that benefits all homebrewers.