Next stop: Beer
A large sign painted on the side of a brick building just east of the London Bridge stop on the South Eastern Train Line beckons with a message right out of some novel you can't quite remember the name of: "Take Courage."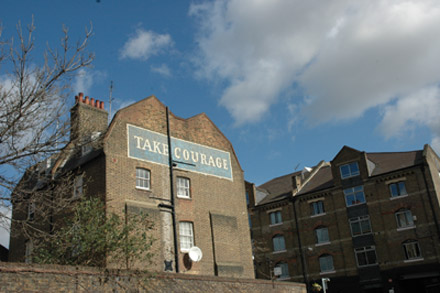 Act quickly to scramble off the train at London Bridge and by the time you locate the building advertising Courage ales you will have stumbled across at least a half dozen more beer-related delights.
You may already have a favorite train or tube stop in London-say Parson's Green, pleasantly handy to the famous White Horse Tavern-but can it match the variety of choices this area offers within but a few steps?
All of them may be found less than five minutes from the Borough Market, a wholesale market where work begins well before dawn most days. On Friday afternoon and all day Saturday the market turns into a public fair featuring gastronomic delights, with more bread and cheese choices than you can imagine, enticing game (freshly skinned rabbit), chocolate and more chocolate, plenty of over-sized produce, lots of items prepared for immediate eating, and even beer.
The market is a short walk from both London Bridge stations, with signs pointing the way. Touring order is optional:
* The George Inn on Borough High Street, which was destroyed in the Great Fire of Southwark in 1676 and rebuilt in 1677. The coaching inn has a large cobblestone courtyard. If you peer inside a serving bar visible from the courtyard you'll see a Victorian "cash register" beer engine.
* The Hop Exchange, just around the corner on Southwark Street, occupies an entire block, a reminder of how important the London hop trade was in the 19th century. Opened in 1868, the Hop and Malt Exchange was once three stories high with a massive trading floor in the middle. Today it's an office building, but worth walking the length of to admire the intricate ironwork and other carvings depicting hops. (Photos.)
* Utobeer, a stall in the Borough Market. Hundreds of beers to choose from, many you may not find elsewhere. Obviously plenty of British choices, but also a wide, wide range of Belgian beers, more expensive than in Belgium but blame the British duty. A 750ml of Lou Pepe Kriek was about $14 in April, with a six pack of Goose Island IPA almost $16.
* London's "own" pubs. There are Young's pubs on two sides of the market, and a Fuller's pub back toward London Bridge, just case you want to have the beers brewed in London and aren't spending much time in town.
* And speaking of the other London brewery, the much harder to find beers from Meantime Brewing in Greenwich are on tap at Brew Wharf, off another side of the market. Brew Wharf is part of the Vinopolis complex, a "Wine Tasting Attraction." As well as wine and whisky stores (including an entire section of vintage single malts at more than $1,500 a bottle) Vinopolis offers various touring packages. The "Explorer" features tastes of seven wine, a cocktail, two whiskys, two absinthes and two beers, plus a corkscrew and T-shirt. Brew Wharf also serves cask beer brewed on premise and a fine range of imports.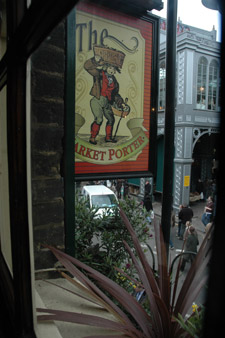 * You might make Market Porter your last stop, because it will be hard to move on. The pub overlooks the market and opens from 6-8:30 a.m. daily for market workers, then closes until 11 a.m. The 12 cask beers on the ground floor (only the splendid Harvey's is offered upstairs in the dining area) tend to change at a dizzying rate, so that a beer available on Saturday surely won't be Monday.
Many of these are beers you seldom find elsewhere, and the attentive bar staff doesn't hesitate about offering a small taste of unfamiliar choices.
The food is excellent and a bargain by London standards. Char grilled chicken with bacon & blue cheese is served with creamed pesto potato and seasonal vegetables for about $15, or you could make a meal of the field mushrooms and pancetta welsh rarebit sold as an appetizer for $11.
Oh, and that Courage sign? Head up the street that runs between Neal's Yard Dairy and Market Porter, hang a right and there it is.