Wisconsin brewers on the map
By Lucy Saunders
A Taster's Guide to Wisconsin, a colorful, new map highlights destinations for beer, wine and specialty cheeses across the state. With help from the Wisconsin Milk Marketing Board and the Department of Agriculture, Trade and Consumer Protection, the small Wisconsin Brewers Guild and Wisconsin Winery Association put together a map to pleasurable points of interest.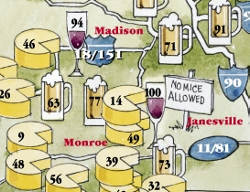 A close up look at the map shows how rich the area around Monroe is in beer, cheese and wine.

Dotted with symbols of cheese wheels, pints and stem glasses, the map helps people find places to sample Wisconsin's world-class cheeses, craft breweries and award-winning wineries. Listings on the back of the map include phone numbers and addresses.

What makes the map especially useful is information about tours and tastings. Tourism and visitation is increasingly important to craft brewers. In Milwaukee, Lakefront Brewery has now offers weekday tours, the Milwaukee Ale House offers beer education seminars, and in Glendale, Sprecher Brewery attracts more than 20,000 visitors each year.

"We offer special events, tastings and tours," says Randy Sprecher, owner of Sprecher Brewing Co. "And with our expanded gift shop, we get visitors all the time."

That said, there are some startling omissions - such as the Great Dane Brewpub in Madison. "We asked all the breweries listed on the map to become current members of the Guild to help defray the printing costs," explained Deb Carey, president of New Glarus Brewing Co. and chief organizing force behind the map project.

And there are some not-so-startling inclusions. Giant Miller Brewing Co. made it onto the map, without being an actual member of the Wisconsin Brewers Guild. Perhaps that is because its Milwaukee tourism efforts are growing, as the April 2001 opening of the new Miller Park baseball stadium hovers on the horizon.

In October last year, Milwaukee city officials and Miller Brewing Co. announced a public-private partnership to spend as much as $5 million to enhance the neighborhood around the brewery. Already, about 120,000 visitors stroll through the Miller tour and tasting room each year.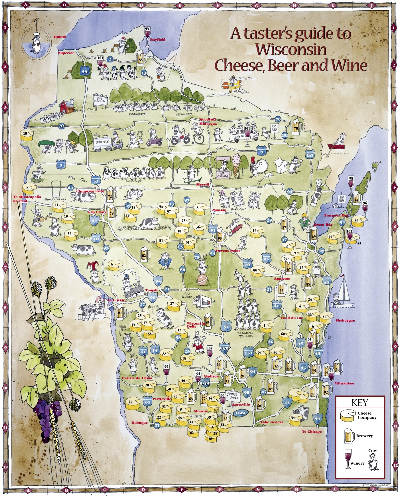 Learn more about the map at the Wisconsin Cheese website.
Lucy Saunders often writes about beer, food and travel, and owns F&B Communications, Shorewood, WI.