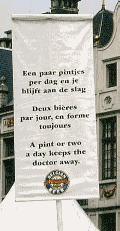 Belgium and Belgian beer
"Belgian beers have become fashionable," Michael Jackson writes, "yet the pleasures they offer have been truly explored by only a discerning minority of drinkers."
At a festival in Brussels in September of 2000, Jackson spotted a sign promising that a couple of beers a day would keep the doctor away. "I could not imagine that being posted in London or D.C., either, despite plenty of recent evidence that it is true," he wrote.