Gary Monterosso
Since 1993, Gary has been reporting on the beer scene in New Jersey, Pennsylvania and Delaware. The writing bug first bit Gary in the late 1980's when, while working at his full-time teaching position, he had an article published in a national educational computing magazine. He recalls, "After that experience, I realized I wanted to do some additional writing. It was around that time that I started getting into the 'good beer' movement but it was the gift of a beer book that directed my focus to that area."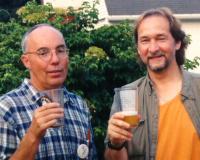 Gary (right) and Real Beer editor Stan Hieronymus

His columns can be found in Mid-Atlantic Brewing News, Ed Hitzel's Restaurant Magazine, Ed Hitzel's Restaurant Newsletter and Cumberland News. Also, he publishes a successful newsletter, TapLine.

Gary's reports now can be heard on the radio as a part of Ed Hitzel's weekly show. Currently, he is on four stations with signals covering the southern half of New Jersey, eastern Pennsylvania and northern Delaware.

Every year, Gary hosts a series of tastings in Cape May, NJ, as a part of the City's annual "Food and Wine" and "Victorian Week" festivals. He brings representatives from breweries with him in an attempt to educate his students about the intricacies of fine beers. Of special interest to him is pairing food with beer.

Gary also is a sponsor of the Atlantic City Gourmet Food and Kitchen Show, organizing the beer presence for the event.

He co-founded the New Jersey Association of Beerwriters and is a member of the North American Guild of Beer Writers. In 2001, Gary was awarded a Silver medal for writing by the North American Guild of Beer Writers.

Asked to define his finest moments in his career, Gary remarked, "Actually there were many. Touring with Michael Jackson and having him spend an evening at my home certainly ranks at the top. I also learned a lot from traveling with Stephen Beaumont, another exceptional writer. A special treat was brewing with Tom Baker of Heavyweight Brewing. I've experienced much about the craft because of my relationship with Tom as well as with Steve Heck of Blue Collar Brewing, one of the most talented people in this business. In general, I have gotten to know some extraordinary people and have developed friendships which will endure long after this journey comes to an end."

Gary lives in Upper Deerfield, New Jersey with his wife and daughter.