Part III: New brewers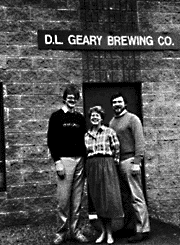 Alan Pugsley, Karen Geary, and David Geary in 1988 (click for larger image).

A man named Jack McAuliffe is generally credited with being the father of the micro-brewing movement in America. McAuliffe was a U.S. sailor stationed in Scotland in the mid-1970's. All around him there flowed hearty and robust Scottish ales. Jack loved them. His problem was his military pay: it failed to allow him to partake of as many brews as he might have liked. The solution: to simulate those brews via homebrewing. The results weren't bad. Jack kept on homebrewing. And when his service days were over and he returned to the States he kept on homebrewing, too. After a while he decided to share his achievements with others. The result was the formation, with partners Suzy Stern and Jane Zimmerman, of the New Albion Brewing Company in Sonoma, California in 1977. Jack's brewery, mostly because of under capitalization, eventually failed. He ceased operations in 1983. But Jack McAuliffe had planted the seed that small can be beautiful. And once that seed started to sprout, there was not stopping it.

By the time of New Albion's demise there were brewing juices beginning to ebb and flow in Maine. First, though, came Portland's Three Dollar Dewey's. Opened on the very last day of February 1981, Dewey's was the dream of bee maven Alan Eames. Eames envisioned - and created - a no-frills English-style pub that featured a selection of ales and beers second to none. It was, in many ways, a catalyst for what was to come. "Dewey's educated and entire generation of beer drinkers," wrote beer savant Al Diamon in the June 19. 1995 issue of Portland's Casco Bay Weekly, "so that by the time good local beer arrived, there'd be someone to drink it." Ed Stebbins, Brewmaster at Maines' pioneer brewpub, Gritty McDuff's in Portland, goes one step further. Says Ed: "Gritty's never could have happened without Dewey's. Nobody would have known what we were trying to do."
Richard Pfeffer, left, and original - and short-term - partners Steve Barnes and Eric Harrison at Gritty McDuff's (click for larger image).

The state's political wizards chimes in, too. Thanks largely to the efforts of Henry Cabot, they passed ""An Act Concerning the Licensing of Small Maine Breweries" in the spring of 1985. Henry, called "Harry" by friends, was proprietor of the Pine Cone Public House in Waldoboro. It was his goal to expand it into the Pine Cone Public House and Bakery and Brewpub. It, alas, never happened, but Henry's/Harry's efforts led to legislation that, as defined by Maine's' dean of brewers, David Geary, "Created special licensing that permitted small Maine breweries to self-distribute and permitted them to brew and serve on-premises."

Another ingredient in Maine's micro story is the now largely-forgotten Portland Lager. It was the brainchild of Portland residents Jon Bove and Hugh Nazor, who contracted with Hibernia Brewing Company, of Eau Claire, Wisconsin (later with the F.X. Matt Brewing Company, of Utica, New York), to brew a full-bodied beer in early 1986. Buoyed by its sales success, Bove and Nazor talked of opening their own brewery. They came close, settling on a former textile mill in Lisbon Falls, but saw their dream fade away when the mill burned down in July of 1987. Although never brewed in Maine, Portland Lager did help to further awaken the taste buds of Maine's beer-buying public.

Enter the final ingredients: David and Karen Geary and Alan Pugsley. David is a native of Portland; Karen , of Joilet, Illinois; Alan of Stratford-on-Avon, England. In 1986 they came together, as told on pages 132-133, to brew Maine's first commercially - and legally! - sold beer since the days when the Babe was on the mound for the Sox. And that's a long, long time ago.