Beer Break Vol. 2, No. 18
New beers on the shelves
Feb. 7, 2002
- Stone Brewing released the first of its new Stone Vertical Epic Ales on Saturday (02.02.02). Each of the eleven Vertical Epic ales will become available one year, one month and one day apart, so to complete a tasting of all 11 beers scheduled for release you'd have to wait until Dec. 12, 2012. Each batch will be brewed in a style different from the previous year, and will be bottle-conditioned so the beer may mature in the cellar. The resulting vertical tasting "promises to provide the beer connoisseur with the flavor equivalent of a Mozart Symphony with multiple movements." The release of 02.02.02 was limited to 300 cases (a total of 3600 bottles) so they will be hard to come by. The brewers (this is the job we want) will conduct quality control tastings over the years, and issue an alert if it appears that one of the beers starts to peak early and should be consumed before 12.12.12. As a nice touch, the beer's silk-screen label is positioned lengthwise so that it is easy to read when you store it on its side in your beer cellar.
- BridgePort Brewing Co. in Portland rolled out Pintail Ale last month. Deep golden with a medium body, it is mildly bitter and has a tart finish. It is made with pale, Munich and wheat malts, with the wheat contributing to the tart finish, keeping the mouthfeel light and producing a sturdy white head. Pintail Ale takes its name from the Pintail duck that is indigenous to the Northwest region.
- Britain's George Gale and Co. will launch a new seasonal in May - Jubilee Ale, which has been maturing since the early part of last year. It is being released to mark the Queen's 50th anniversary as monarch. Jubilee Ale is described by Gales head brewer Derek Lowe as "A real celebration of the brewer's art. Finest English barley with that distinctive hop character. A truly majestic ale." It will be available in both draught form (4.5% abv) and in exclusive commemorative corked bottles at 12%.
- Minnesota-based Artisinal Imports hopes to distribute a new beer from Belgium nationwide. Production at Urthel -- a creation of wife and husband team Hildegard and Bas van Ostaden, owners of Brouwerij de Leyerth -- has doubled and redoubled in the 14 months since the beer brand was introduced. Currently two Urthel Ales are offered in the United States: Urthel Tonicum Finiboldhus Amber Ale and Urthel Hibernus Quentum Tripel Ale. Both are bottle conditioned and unfiltered, and also available on draft. Urthel Amber is moderately strong at 7.5% abv, with a cloudy, orangish appearance. It is fruity and slightly hoppy in the nose, and malty with just a hint of hop bitterness. Urthel Hibernus Quentum Tripel is a strong 9% abv, slightly cloudy burnished-golden in color with white, voluminous foam. It has a honey note in the nose, and a spicy, flowery aroma.
- From Portland Brewing Co./MacTarnahan's: The MacTarnahan's Experience, a new gift box combines a 750ml bottle of The MacTarnahan Single Malt Scotch with 12-ounce bottles of MacTarnahan's Amber Ale and MacTarnahan's Black Watch Cream Porter -- both gold medal winners at the Great American Beer Festival. Packaged with a signature whisky snifter and beer glass, The MacTarnahan's Experience is the first gift box of its kind in America. "Scotch and beer is a centuries-old tradition in the world of libations," says whisky expert Stuart Ramsay. "Good beer is the perfect companion to fine Scotch. Surprisingly, to my knowledge no other company in America has offered this classic combination in one package."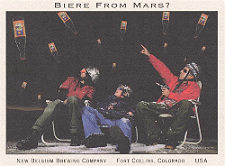 - New Belgium Brewing Co.'s Biere De Mars returns for a second season, and should be available in all 12 states where New Belgium sends its beer. How do you describe a beer that is brewed with barley, oats and wheat malt, and bottled conditioned with a wild yeast strain that contributes to a hazy orange hue and citrusy finish? Brewer Peter Bouckaert emphasizes the celestial aspects: "Picture rolling hills, brick farmhouses and an area once rich in mining. I want you to visualize the organic architecture of Victor Horta, a curving banister with soft light falling from the window. This is what we tried to put into the beer." Rumor has it that the next bottling of LaFoile, the award winner brewed in the style of a sweet-and-sour red ale such as those produced by Rodenbach, will be available about the end of March. LaFoile is sold only at the brewery and last year's batch lasted about 4-5 months.

Alaskan Barley Wine winner

Why do we write about cellaring beers? What's the value of setting a few back and seeing how they mature? The champion beer at the Great Alaska Beer & Barley Wine Festival last month was no youngster, but 1998 Old Boardhead from Full Sail Brewing Co. Now in its fifth year, the Alaska festival attracts one of the most interesting barley wine lineups you'll find anywhere (surpassed perhaps only by the Toronado festival later this month and the Great American Beer Festival). Second place in the judging went to Old Woody Bourbon Barrel Barley Wine from Glacier Brewing Co. in Anchorage. Third place was Old Guardian from Stone Brewing.

Pairing of the week

Want to mix a little beer and romance next week for Valentine's Day? Dark beers, most particularly porters and stouts, go well with both oysters and chocolate. This memory from Michael Jackson comes from a 1998 road trip: "One of the great beer-and-food combinations is oysters and porter or stout. At Cutter's restaurant, in Seattle, I did not even have to order the oysters. I was scarcely through the door when the chef brought them to my table. There were three or four varieties on the half shell, then each one also cooked in a different way. The beer? A soft, lightly rooty, licorice-ish porter from the newish Scuttlebutt Brewpub in Everett, Wash."

Tasting notes

CRESTED BUTTE RED LADY
Brewed by Crested Butte Brewing Co. in Colorado

Michael Jackson writes:
Attractive, bright russet color. Assertive, almost sharp, hoppy, flowery, fruity aroma. Smooth flavors of passion fruit gradually unfold, moving to toastiness and a crisp, light finish. The body is closer to light than medium, and the character refreshing rather than thoughtful, but there is enough flavor to keep this an engaging ale. Good for drinkers who are not seeking a lot of hop bitterness (and vice-versa).

PRIMATOR PREMIUM LAGER
Brewed by Nachod Brewery in the Czech Republic

Roger Protz writes:
An enticing pale gold color leads to a rich corn flour aroma balanced by aromatic hops and a hint of toasted grain from double decoction mashing. Sweet, juicy malt and tart, spicy hops dominate the palate, followed by a big finish bursting with lemon fruit and becoming uncompromisingly bitter, dry and hoppy. A splendid example of a Czech cold-fermented beer.