Beer Break Vol. 3, No. 18
Miss Rheingold in the 21st Century
Feb. 13, 2003
The Rheingold Brewing Co. has put a new spin on the once famous Rheingold Girl with hopes of resurrecting the beer brand in New York City.
The new campaign represents Rheingold's second shot in five years at the $40 million New York metropolitan area beer market, the largest in the country. The previous effort, in 1998, proved unsuccessful as the marketing program that played up its macho personality and heritage failed to attract younger audiences.
This time, Rheingold is focusing on hometown appeal. The beer bills itself as "100 percent New York by volume" and has new packaging, a clear glass bottle with a painted label that miimics its own packaging in the 1920s. Rheingold uses its 1930s ad slogan "Good Beer" on the bottle caps.
The company is aiming the promotions at hip downtown New Yorkers in the 21- to 29-year-old range, the key age group for most beer companies.
"I think our target audience is looking for simplicity, honesty and authenticity, and is attracted to brands that are tried and true," said Neil Powell, president of New York-based Powell, the ad agency that created the campaign. "We are a blue-collar, honest, no-frills beer, and that is basically how we're coming back."
The new Miss Rheingold will be one of New York City's bartenders. "We don't think of her as a beauty queen," Powell said. "When you see the women, obviously they are attractive, but they are real people selected because they personify what Rheingold stands for."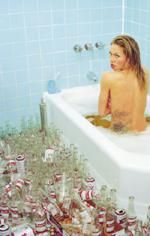 March 10 follow up: Kate Duyn was crowned at a lively event held at the Ukrainian National Home. Originally from Portland, Oregon, Duyn first worked in the San Francisco area as a dancer and producer.
She's since taken her dreams of becoming a professional modern dancer to NYC, working toward that while bartending in the Lower Eastside. Her goals include opening her own dance/yoga studio and choreographing and directing dance performances.
Interviewed in the bar where she works, Duyn noted that she sometimes does "bar gymnastics" late at night. She'll climb onto the bar and do flips and other gymnastics maneuvers.
You'll notice her picture to the right is somewhat different that how Miss Rheingold was portrayed in the 1950s.
Tasting notes
FULLER'S CHISWICK BITTER (Cask)
Brewed by Fuller's in London
Michael Jackson's tasting notes:
The beer I most often drink in my local pub. Chiswick Bitter has a gravity of 1034 and an alcohol by volume of 3.5v (2.3w). Malts: Pale Ale and crystal. Hops: Northdown, Challenger, First Gold. Dry-hopped with Goldings. A light-bodied, refreshing, beer, with a very flowery hop character.
CASTA MORENA
Brewed by the Especialidades Cerveceras brewery in Mexico
Michael Jackson's tasting notes:
Very attractive, tawny to dark brown color. Pours with good "Brussels lace". Fruity, sweetish, plummy, aroma. Rounded, smooth, body. Clean, toffeeish, malt flavors. A hint of orange-zest acidity in the finish provides a balancing dryness.