Molson campaign called 'sexist'

Ad for Bavaria beer features woman in (and almost out of) string bikini

May 19, 2003 - Candian brewer Molson has come under attack for the racy TV campaign of its new "super-premium" beer from Brazil, A Marca Bavaria.

One commerical in particular, featuring a woman in a string bikini whose actions are controlled by a man on shore manipulating a beer bottle, has sparked strong reaction from viewers, particularly women.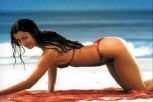 When the man turns the bottle, the woman turns to show her largely exposed derriere. When he puts it in a horizontal position, she gets down on all fours. When he starts to peel off the label, she begins to undo her barely-there swimsuit.
"A lot of advertisers are pushing the envelope in all kinds of ways, but this one is quite blatant," said Melanie Cishecki, executive director of MediaWatch, an organization working to reduce sexism in the media.
"I'm sure Molson will say they're attempting humor, because in the end the woman doesn't actually do it, but that final shot doesn't take away from all the stereotypical images we've already seen. The guys are actually pulling strings for her to take off her clothes for their enjoyment."
Cishecki called the sexist portrayal "exactly what women were fighting against in the '70s and '80s." Men also should be appalled, she said. "Guys must surely get tired of being portrayed as people whose only interest is beer, boobs and babes."
As well as being television, the commerical is available at the Molson Web site, which says the ads are "inspiring Canadians to shed their inhibitions."
The Canadian Broadcast Standards Council and Advertising Standards Canada registered complaints, but officials wouldn't say how many.
TV stations in Quebec and Atlantic Canada aren't yet carrying Bavaria ads because Molson won't be launching the product there officially until June. Nathalie Nasseri, general manager of Kaiser Canada, would give no details about the marketing strategy proposed for that market, other than that it will include TV ads, activities and samplings.
At the Bavaria launch in Ontario in March, Molson president Dan O'Neill said the brand would try to cultivate a "sensual" image. Its target audience is men age 19 to 24.

Search The Real Beer Library For More Articles Related To: CANADA, Molson