Portland re-releases first beer

2,500 Belgian horse pulls wagon delivering fresh draft ale

Feb 7, 2003 - Portland Brewing enlisted the help of a 2,550-pound Belgian draft horse to re-introduce its original Portland Ale to the Oregon beer market.

Thursday, Buck — who stands 19.2 hands high (nearly 10 feet from the ground to the top of his ears) and weights 1.25 tons — pulled a wagon that delivered Portland Ale to Rogue Ales Public House, Jimmy's Macs, McCormick and Schmicks and Dan & Louis Oyster Bar. Introduced in 1986, Portland Ale was among the first craft beers available on tap in the Rose City, helping spark a local and national craft brewing renaissance.

"We're celebrating the re-release of Portland Brewing's first beer, as well as our status as Portland's last independent brewery and bottler," says Portland Brewing President and Founder Fred Bowman.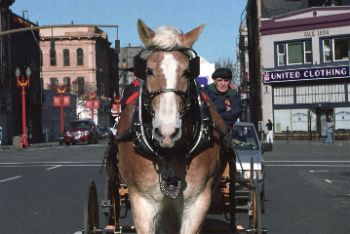 With brewery patriarch "Mac"

MacTarnahan

at the helm, Buck delivers Portland Ale.

beer.
Brewed from Bowman's original 1986 recipe, Portland Ale is made of pale, two-row malt and fragrant Cascade hops. Though Cascade hops are common in West Coast ales today, Portland Ale was one of the first beers to embrace the flavorful Northwest variety.

Search The Real Beer Library For More Articles Related To: Portland Brewing