Schell buys Grain Belt brand

Classic Minnesota beer moves to New Ulm

July 23, 2002 - August Schell Brewing Co. in New Ulm, Minn., has reached an agreement to purchase the Grain Belt beer brand from Minnesota Brewing in St. Paul, which recently closed its doors.

"The timing of this purchase is ideal," said Ted Marti, President of August Schell. "With the recent expansion of our brew house, storage and packaging facilities, we will be able to seamlessly add the production of Grain Belt. However, we must wait for government approval of the sale before we are able to produce and distribute the beer. Hopefully the process will move quickly so we can keep Grain Belt available."

Grain Belt Premium is one of the last of the classic regional brands still produced in the area where it was born. "I'm pleased we are able to step up and save the brand. Preserving the history of brewing in Minnesota is a big part of what we are all about," Marti added.

"The bottom line is we will be able to brew enough beer to satisfy the current and future demand. It is our intention to continue the tradition of Grain Belt and it's connection to the beer drinkers of the Upper Midwest, growing the brand back to its rightful place in the market," Marti said.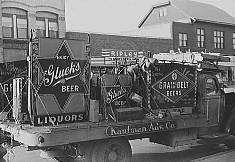 A truck carrying Glueck's and Grain Belt beer signs makes deliveries before Prohibition.
For the immediate future, the Schell brands and Grain Belt brand will be operated as separate entities.

Search The Real Beer Library For More Articles Related To: August Schell