Microbrewery pioneer Bert Grant dies

His Washington brewpub signaled beginning of a revolution

Aug 2, 2001 - Craft brewing pioneer Bert Grant, who founded the first modern day brewpub in the United States, is dead at 73.

Grant had been ill for two years and died Tuesday at the University of British Columbia Hospital in Vancouver. He had moved to that city a year ago to be close to his children.

When Grant founded his brewpub in Yakima, Wash., in 1982 there were fewer than 50 individual brewing operations in the U.S. Today there are more than 1,500. That brewpub expanded to become a bottling microbrewery, selling about 10,000 barrels of Bert Grant's Ales in 2001. He sold the brewery to Chateau Ste. Michelle wines in 1995, but Grant remained an active spokesman until being slowed by illness.

He'd sometimes wear a kilt at his pub in Yakima and occasionally dance on the bar. He kept a claymore -- a double-bladed broadsword -- just in case he had to enforce his ban on smoking.

He was born in Dundee, Scotland, in 1928. He moved to Toronto, where he grew up and got his first job in a brewery ... at 16, he became a beer taster. He remained in the beer business all his life. He moved to Yakima in 1967, where he helped build and operate two plants that processed hops. His patented processing of hops is still in use today.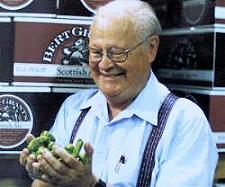 "Bert was one of a kind," said Paul Shipman, who founded Red Hook Brewery around the time Grant began Yakima Brewing and Malting Co. "He was a scientist, a brewer, and I don't think he even graduated high school."
He remained dedicated to assertive beer and carried a vial of hop oil in his pocket to boost the flavor of a bland domestic beer. His first priority was to brew beer he liked. "It may not be your favorite beer," Grant's son Peter said. "But it was his."
Friends and family will raise their glasses to Grant on Aug. 11. The family is still working out the details, but plans to have a wake for Grant on that day. There will be a piper and a jazz band. The family suggests that donations be made to the Audubon Society, 700 Broadway, New York, N.Y., 10003.

Search The Real Beer Library For More Articles Related To: Bert Grant's Ales, Bert Grant, Hops, Microbrewery, Yakima Brewing & Malting