A Bud by any other name...

Czechvar 'is what you think it is'

Mar 9, 2001 - The secret is out. The beer now being sold in California and soon to be shipped to other parts of the United States under the name Czechvar is the same beer that is sold as Budweiser Budvar in many of countries.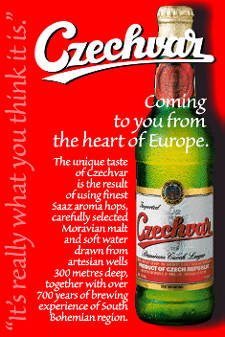 U.S. beer drinkers haven't been able to taste Budweiser Budvar next to America's Budweiser -- the world's top-selling beer -- since Czech brewer Budejovicky Budvar and Anheuser-Busch signed an agreement in 1939 that kept Budvar out of the United States and A-B's Budweiser from using that name in many European countries.
As Real Beer reported in December, Budejovicky Budvar began shipping the beer to California late last year under the Czechvar name. While those selling the beer acknowledged it was from Ceske Budejovice and used the same Moravian malt, Czech Saaz hops and deep well water as Budvar Budweiser they were careful not to hint too broadly it might be the same beer.
As long as a growing list of vendors who will sell the beer take the same approach, St. Louis-based Anheuser-Busch apparently has no problem. Stephen Burrows, president and chief executive officer of A-B's international division, said, "We have no objections to the Czech brewer selling beer in the United States under other names they have a legal right to. What they cannot do is infringe on our trademarks Budwesier, Bud or other related terms."
In California, Kip Bruzzone of World Wine Ltd. -- who lobbied four different Czech administrations over the course of 20 years so he could sell a beer he loves -- is using the advertising slogan, "It is what you think it is."
Czech Beer Importers of Connecticut, which will handle the beer for the East Coast and in the Midwest, has settled on the tagline: "Only the name has been changed to protect the beer." So far Czech Importers hasn't lined up a distributor for the beer in Missouri, where last year the local newspaper conducted a taste-off between the two beers.
The St. Louis Post-Dispatch hosted the blind taste-test to determine which beer drinkers preferred -- Budweiser brewed in St. Louis or Budweiser Budvar that was flown in for the test. There were four judges, two who brew their own beer and two who just like beer, with preferences for Bud Light and other Anheuser-Busch products.
The judges were asked to score each beer from 1 to 5 on color, aroma, bitterness, malt character and clarity. Budvar beat out its American competitor, garnering a third more points overall. The regular A-B drinkers gave it higher marks than the homebrewers.
For years, A-B and Budejovicky Budvar have locked horns in courts around the world over which has the rights to the name Budweiser. Both make strong cases.
St. Louis restauranteur Carl Conrad started using the Budweiser name in 1876, registered the Budweiser trademark in 1878 and when he ran into financial difficulties, the name was reassigned to Anheuser-Busch in 1883. The Czechs counter they've been making beer in the same city for 700 years, although only since 1895 at the current brewer. And that city was known until early this century as Budweis. Budweiser means Budweis brew, they say.
A-B argues that it was not until the 1960s that the Czechs started using Budweiser prominently on their label - long after A-B had spent hundreds of millions of dollars to build up the name.
That attention probably made some U.S. beer drinkers curious about Budweiser Budvar. There's also a built-in market of European immigrants who enjoyed the beer where they grew up. Then there are those like Bruzzone -- tourists who discovered Budvar outside the United States.
"It was 1977 or 1978 in Vienna that I was first exposed to it," Bruzzone said. "I hadn't heard anything about it before, but that beer was so incredible." It was the beer, not its name, that he fell for. He's hardly alone.
"We're going to sell it based on the beer in the bottle, not the name," Bruzzone said.

Search The Real Beer Library For More Articles Related To: CZECHOSLOVAKIA, Budejovicky Budvar, Anheuser-Busch, Budweiser