Boston Beer teams with film stars

Sam Adams beer sponsors Project Greenlight

Mar 5, 2001 -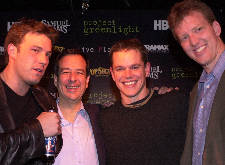 Ben Affleck, Jim Koch, Matt Damon and Chris Moore

Boston Beer Co.'s Samuel Adams beer will be the exclusive sponsor of Project Greenlight, a venture supported by film stars Matt Damon and Ben Affleck.

Miramax Films and Television and Live Planet are behind the effort, a first-of-its-kind venture that uses traditional media, new media and real world activities to give audiences a chance to participate in and gain an inside view into the filmmaking process.

"Sam Adams was the right choice for us in Project Greenlight," said Matt Damon. "While there is an obvious Boston connection, we felt strongly that Jim Koch and his team at Sam Adams share the philosophy of what we are trying to accomplish with Project Greenlight. Sam Adams did something in the beer industry that is similar to what Project Greenlight is doing in the entertainment business -- they introduced Americans to a new, world-class brew, at a time when all they were getting was a few mass-produced choices."

Project Greenlight, the largest active screenwriting community in the world, invited amateur screenwriters to submit original screenplays electronically to the Project Greenlight contest at www.projectgreenlight.com. Miramax Films has committed to providing the winning contestant or team's screenplay with a minimum $1 million production budget, and to hire them to direct the film, which will be executive produced by Damon, Affleck and Chris Moore.

Miramax has also guaranteed distribution of the film in theatres, currently slated for early 2002. At the same time, Miramax Television will chronicle the making of the movie in a 13-episode documentary series that gives the audience an insider's look at the movie-making process, slated to air on HBO in early 2002.


Search The Real Beer Library For More Articles Related To: Boston Beer Co.