Belgian brewers guild honors Americans

Ommegang's Thiel, Monk's Peters, two others knighted

Oct 11, 2004 - Randy Thiel of Brewery Ommegang recently became the first American brewer knighted by the Kighthood of Brewers' Mashstaff in Belgium, joining three other Americans at an awards ceremony in Brussels.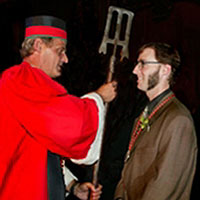 Thiel was recognized for his ongoing contributions to the art of Belgian brewing as practiced at Brewery Ommegang and in the U.S. He has been brewmaster at Brewery Ommegang since its inception in 1997, and has been responsible for the development and ongoing production of the five highly regarded Belgian-style ales the brewery produces.
The ceremony in Brussels was presided over by Grand Master Jack Van Antwerpen and attended by the Knighthood of Brewers, as well as Laurent Demuynck, president of Duvel Moortgat USA and Brewery Ommegang. Other Americans inducted were Tom Peters, co-owner of Monk's Café in Philadelphia, Eddie Friedland, owner of Edward I. Friedland distributorship in North Philadelphia; and Joe Lipa of Merchant du Vin Importers. All are credited with helping create rising interest in Belgian beer in the United States.
"Inclusion into the Guild is an inspirational and humbling occasion all at once," Thiel said. "The members of the Belgian brewing community take great pride in their unique heritage and current achievements in the international arena. To be in the presence of people I respect so much, sets a higher standard to shoot for. It truly is an honor."

Search The Real Beer Library For More Articles Related To: BELGIUM, Brewery Ommegang