North Carolina man top beer drinker

Ray McCoy wins Wynkoop Beerdrinker of the Year title

Jan 27, 2003 - A computer consultant from North Carolina has been chosen 2003 Beerdrinker of the Year, the third time in seven years that a North Carolina resident has won the competition sponsored by Wynkoop Brewing Co. in Denver. Ray McCoy, in fact, is the second member of his household to win the award. His partner, Cornelia Corey, won the 2001 title.

McCoy bested two other finalists — John Ahrens of Mount Laurel, N.J., and John Marioni of Bothell, Wash. — in a two-hour oral exam Jan. 18 at Wynkoop. Marioni, 38, brews beer with hops his grows in his backyard and keeps a detailed list of every beer he drinks during a year. Ahrens was listed in the Guinness Book of World Records when he had the world's largest beer can collection.

McCoy told the judges he was a relative newcomer to serious beer drinking, with 10 years experience. But in that time he become a devoted traveler to beer festivals and other destinations, and put together a collection of 1,600 beer labels and 300 glasses. Each of the glasses has been christened with the "correct" beer.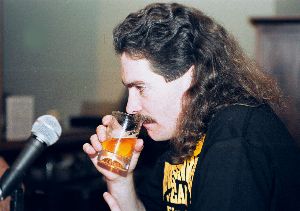 "It's not the time you spend drinking beer that counts, it's the intensity," he told the judges.
When asked to tell a joke related to beer, Ahrens said: "You know what they call the aging tanks at Budweiser? Tractor-trailer trucks."
McCoy responded: "With all due respect, I don't regard beer as a joking matter."
McCoy won $100 to spend at his home brewpub, Liberty Steakhouse and Brewery in High Point, N.C. He also won a lifetime of free beer at Wynkoop, 1,583 miles from his home.

Search The Real Beer Library For More Articles Related To: Beerdrinker of the Year