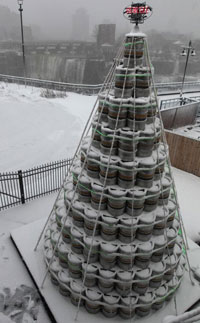 Genessee Brewing in Rochester, N.Y., has used 300 kegs to build its own version of a Christmas tree outside it brewhouse, trimmed with with 600 feet of LED green rope lights, and topped it with a rotating Genesee sign. The tree is 23 feet tall.
"It's been great fun," Michael Gaesser, Genesee's director of packaging innovation, said at a press briefing. "As soon as you turn it on, people start taking pictures. Everyone thinks it's cool and the whole company rallied around it."
The tree was erected on a 16 x 16 wooden base and between the 10 layers of kegs is a plywood platform. The kegs are tied together with a cable system. When disassembled, the parts will go into storage for next year.
And the kegs? "The kegs will go back into the production flow and go right back out with beer in them," Gaesser said.
An official public lighting ceremony is set for Thursday.