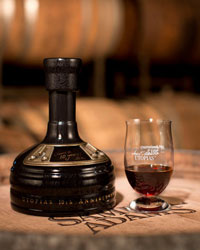 The tenth anniversary batch of Samuel Adams Utopias might be the sort of "bottle" of beer you wouldn't buy for yourself — not at $190 (when you can find it) — but it makes a pretty good gift. One you might want to give with two glasses, if you've figured out where this is going.
A Boston Beer Co. press release only begins to hint at how complex this beer is: "The 2012 Samuel Adams Utopias brew weighs in a bit above 29 percent alcohol by volume (ABV) and was aged in hand-selected, single-use bourbon casks from the award-winning Buffalo Trace Distillery to enhance the beer's distinct vanilla and maple notes. The 10th Anniversary batch also spent time in a variety of finishing casks: Tawny Port casks and Vintage Ruby Port casks from Portugal, which contribute slightly more elegant, dark fruit aromas, and Rum barrels from Nicaragua, which add flavors of fig, chocolate, raisin, vanilla, and a slight spice."
The brewers make fewer than 15,000. bottles of this limited-edition beer due to the long aging required. Samuel Adams Utopias is bottled in a specially designed 10th Anniversary black decanter. Shaped like a brew kettle, the exterior is etched with roots.
"This release of Samuel Adams Utopias is proof – 58 proof to be exact – that extreme beers have earned a permanent and respected place in the beer universe, a world now constantly evolving with new craft brewers and excited craft beer drinkers," company founder Jim Koch said for the press release.