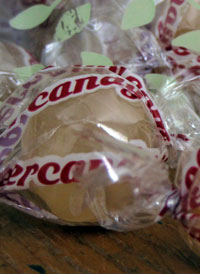 In case you were wondering, the Hopdrops from Beercandy really do smell and taste like Cascade hops.
That seems important to us at Real Beer. We've already got plenty of candy, most particularly chocolate, to pair with beer. These stand alone. Not surprisingly, no Beercandy products contain a measurable amount of alcohol. Yet they still taste of beer, though some more than others.
Beercandy offers three basic choices: an assortment of caramels; BeerTaffy in stout and IPA flavors; and the HopDrops, hard candies flavored with Cascade hop oil and bittered with iso-alpha acids.