As the days grow colder and the nights longer, winter is just around the corner. At this time of year, occasions are marked with traditional seasonal food and beverage. In keeping with one such tradition, many enjoy seasonal spiced ale to warm up the chilly nights. One of the first seasonal beers, returning for its 20th year, Harpoon Winter Warmer continues to be a favorite winter tradition on those cold New England days.
Harpoon brewed this latest version of their classic winter seasonal beer to be more malty and robust. The characteristic cinnamon and nutmeg come through in the aroma, but are subtle on the palate.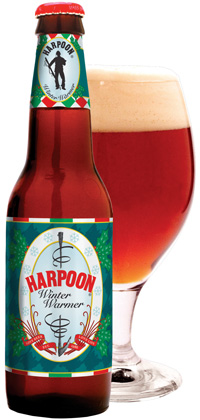 This full-bodied spiced ale yields a rich chestnut color. "Brewed with cinnamon and nutmeg spices, Winter Warmer really suits the season," says Al Marzi, Vice President and Head Brewer. "Winter Warmer achieves the winter feeling in part because of the spices we use, but also because of the smooth, full-bodied taste of the beer."
Winter Warmer was Harpoon's first seasonal beer. Available from late October through the end of January, Winter Warmer complements any holiday gathering. Whether enjoying a pint with friends in a cozy pub or serving it at a large family get-together, this spiced ale adds to every winter occasion. Harpoon Winter Warmer is available in six-packs, twelve-packs, and on draft.