Breckenridge Christmas Ale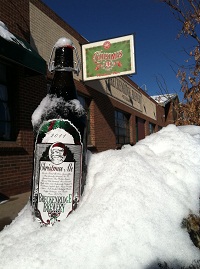 Packaging Breckenridge Brewery's Christmas Ale into liter gift bottles is an annual tradition at the brewery. The time has come again, as the employees gather to hand label a limited supply of the bottles for availability starting this week at the Denver brewery's tasting room and at select liquor stores throughout Colorado. Each of the brewery's "elves" is noted on the back of the label, and proof of their personal touch can be found in the occasional, and refreshingly human, imperfection in the label placement.
In 1993, Breckenridge Brewery first introduced Christmas Ale and has been brewing the same recipe for the holiday season since. Its spicy characteristics of this ale come from the Chinook and Mt. Hood hops. 7.4% alcohol by volume.