As Jack Frost approaches each year, King Gambrinus, dressed as Santa, introduces special ales meant especially for drinking with old friends that gather for good cheer. According to the Brewers Association, who represent over 1400 microbreweries nationally, seasonal beer, and especially holiday beer, has become the most popular style of craft beer, outselling pale ale, wheat beer and other classic styles.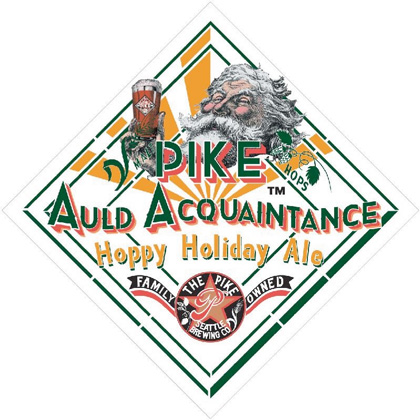 Pike first brewed Auld Acquaintance in 1990 and it was an immediate hit with customers. At the time, most American's were not familiar with seasonal beers. Each year Pike brews a limited amount, bottled in 22oz. bottles and on draft. Brewed as a perfect complement to holiday meals, the alcohol is a restrained 5% by volume with an original gravity of 1.052. In addition to generous batches of Yakima Valley Magnum, Willamette and East Kent Goldings hops, Auld Acquaintance is subtly seasoned with orange peel, coriander, cinnamon, and nutmeg. Our goal, then and now, is to brew a luxurious beer to be enjoyed with splendid winter fare, like hearty soups, cheeses, turkey, hams and joints of meat. Pike Auld Acquaintance is now available at better stores, restaurants and, of course, at our own Pike Pub.
While this tradition is fairly new to American beer-bibers, the custom of brewing flavorful, spiced beer dates back well over a thousand years to what is now England. When the Vikings arrived, the Britons drank primarily megithin (mead), a brew of honey with spices (the origin of our word for medicine); cider from crab apples; perry from pears, and wine from grapes. Though there is evidence of cerevista (a beverage made from cereal) being brewed, it was a little known part of British life until the recipes for ales, the technique for cultivating and malting barley, and the art of brewing, were imported from the Middle East by the monasteries. The church did an exceptional job of promoting ale as an elixir superior to all other drinks. The Danes and Norwegians, at odds with the church about most things, agreed with them about their delicious strong malt liquor. Over a period of a couple of hundred years, the Danish word "Øl" (oyl) became the English word "Ale," a name for the drink as well as the festival where it was served. The Jüle or Yule winter festival had a long tradition before the Vikings and the monks. Jüle, introduced by the Celts, in honor of the sun god, promised a period of warmth and plenty. As Britons converted to Christianity, the Jüle (Xmas) Ale became the most popular winter festival. Before the Norman Conquest the Scandinavians were uninvited guests at Christmas parties throughout the land. As time passed, many of them converted and turned their lives around. While the tradition of holiday beers nearly became extinct in The British Isles, Jüle Øl from Norway and Weinachts Bock from Bavaria never completely died out; but it is in America that the style grew dramatically to become an important part of every beer lover's calendar.