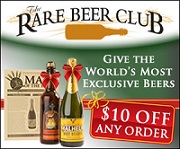 The Rare Beer Club must have impressed Fast Company magazine, because it featured the club in its December/January issue, stating:
"Offering beer as a token of holiday goodwill can be tricky. It's gauche to put a six-pack under the tree, and nothing says 'I forgot' like a brown bag with a ribbon around its neck."
Each month, members receive two different 750 ml selections, many of which are corked and caged, and Gift Memberships available from 2-12 months to fit any budget. And the club is offering Real Beer readers $10 off an order of any term.