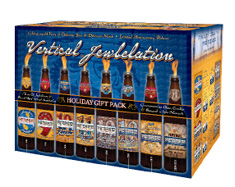 Shmaltz Brewing celebrates its 14th year of brewing with three "Most Extreme Chanukah Offering,s" including Jewbelation 14, HE'BREW Holiday Gift Pack, and barrel-aged Vertical Jewbelation.
Brewed with 14 malts, 14 hops and at 14% abv, Jewbelation 14 marks Shmaltz's boldest anniversary ale to date. Vertical Jewbelation is a blend of all seven recipes of Jewbelation, barrel-aged in Sazerac 6-year rye whiskey barrels throughout 2010.
HE'BREW Holiday Gift Pack features all seven recipes of the Jewbelation series (8 – 14) plus a bottle of the barrel-aged Vertical Jewbelation. The 8-beer Gift Pack will come with a custom glass, Chanukah candles and instructions on how to build your own beer menorah, with artwork by Bay Area illustrator Chris Blair, and a "A Chanukah Prayer" by San Francisco stand-up comedian and Chronicle cartoonist, Michael Capozzola.