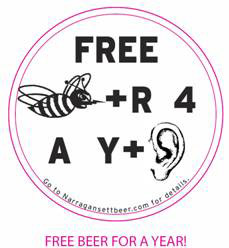 Narragansett, which has long included rebus puzzles under its bottle caps, is giving away limited edition 'Gansett coasters that give drinkes a chance to win free beer or a trip to Florida.
Now through Dec. 31, participating retailers will hand out a set of limited-edition 'Gansett coasters featuring holiday rebuses (picture/word puzzles) with the purchase of a 12-pack. Hidden within these coaster puzzles are 100 chances to win "Free Beer for a Year" and one grand prize of a Ft. Myers Spring Training vacation.
Coasters are free with the purchase of any 12-pack (or two 6-packs) of 'Gansett Lager, Light or Porter bottles at all major package stores throughout Massachusetts and Rhode Island.