In Belgium's small town of Ghent, the Huyghe Brewery has been seeing pink elephants for many years now. On December 26th 1989, the famous "Delirium Tremens" was born. The particular character and the unique taste of "Delirium Tremens" result from the use of three different kinds of yeast. Its very original packing, which resembles cologne ceramics, and the colourful label contribute to its success. The label depicts the different phases of the production of "Delirium Tremens" the "Pink Elephant" was up and ready to conquer the world. But then they released the Christmas version of their beer, Delirium Noel.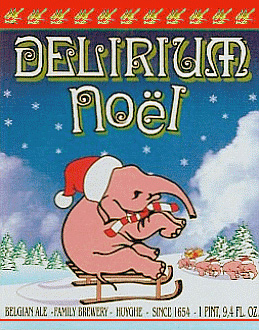 When the seasons' spectrums have changed from a vivid rainbow of flora, fauna and fair weather to a monochrome blanket of snow, slush and frigid temperatures, so must one's beer. A spicy, crimson brew that completes the Delirium Trilogy (including Tremens and Nocturnum), Delirium Noel will bring color and zest back to the cold winter months and to your cheeks.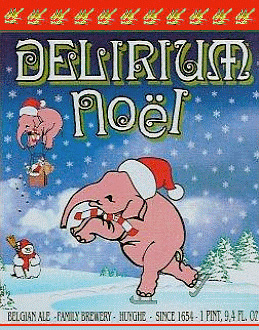 With its combination of an invigoratingly sharp and peppery character, stirring bitterness and that rare, crisp winter freshness of flavor, your inevitable fondness for the subtle, yet familiar nuances of piquant Delirium Noel will last through the seasons! Be sure to make plans to stay in when you pour out this memorable holiday beer, as its stout 10% alcohol content should keep you from going out in the cold more so than any blizzard ever could!
There are several different label of Delirium Noel, and all of them feature the famous pink elephant and most also with Santa Claus.