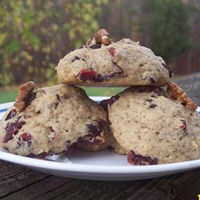 You are ready for Christmas. Your shopping is done. You've selected the beers you will drink tomorrow. Time to open one and relax.
Except … what about Santa? He might want more than a beer set out by the chimney. So here's a recipe for "White Beer Cookies" from the Food Network:
Ingredients
2 bottles (12 ounces each) Belgian style white beer
5 tablespoons honey
1 1/2 sticks unsalted butter, at room temperature
1 1/4 cups powdered sugar
1 large egg
1/2 teaspoon vanilla extract
1 medium orange, zested
2 teaspoons ground coriander
2 cups all-purpose flour
1/2 teaspoon baking soda
Icing: (Optional)
1/2 teaspoon vanilla extract
1 cup powdered sugar
1 tablespoon orange juice
1 tablespoon whole milk
1 orange zested using a bar grater, optional
Directions
Put the beer and honey to a medium saucepan and reduce over medium heat until you have about 1/3 cup of liquid. You will occasionally have to skim the foam off the top of the beer. You will know you have hit 1/3 of a cup of liquid as the liquid will suddenly begin to aggressively foam due to the high concentration of sugar. Let this reduction cool to room temperature.
Cream the butter and sugar together. Add the egg and blend thoroughly. Then add the vanilla, orange zest, coriander, and beer reduction and blend again. Mix the flour and baking soda together then slowly add to the batter.
Preheat oven to 350 degrees F.
Using a uniform scoop scoop mounds of cookies onto an aluminum cookie sheet lined with parchment. Make sure you do not overcrowd the cookies; you should be able to fit about 12 cookies on a half sheet pan. Bake for 20 minutes (depending on your oven it may take more or less time, for some ovens it could take 15 minutes for others it could take 25; 20 minutes is an average time).
Let the cookies cool on the cookie sheet until they are cool enough (about 10 minutes) to transfer to wire racks to cool completely.