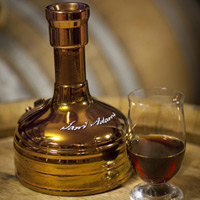 Beer, of course. There was a time that "Real Beer for the Holidays" included a somewhat comprehensive list of holiday beers. That's become impossible to compile. But beer remains at the top of any beer lover's wish list, whether it is seasonal or otherwise special.
Pictured here is Samuel Adams Utopias, which has a suggested retail price of $199 when you are lucky enough to find it.
You don't need to spend quite as much to find a special beer. You also shouldn't be intimidated by a beer aisle that has begun to look as scary — so many labels, so many varieties, such a range of prices — as the wine aisle. Don't be afraid to ask for help. If somebody who works at the store isn't available there's every chance that another of the customers will be something of a beer expert. Turns out there are times beer geeks can be of use.
You might even find a beer to take home for yourself.