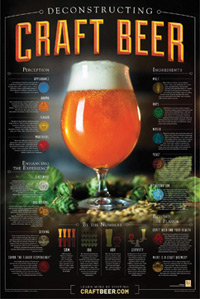 There are plenty of beer posters out there. You can find vintage choices at BeerBooks.com and eBay, for instance. Your local brewery or brewpub may well sell posters.
So pick your poison. The Deconstructing Craft Beer poster shown here will remind you of the popular "inforgraphics" that keep showing up on your browser screen.
But it is a lot bigger (scroll down after clicking on the link).