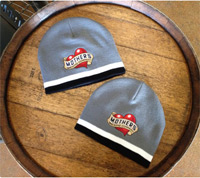 Don't overlook how excellent the shopping can be in brewery and brewpub gift stores.
You might pick up a present for a fan of a far away brewery in its online store, but there's much to be said for shopping local and in person. We're thinking today about wearables — thus the beanie from Mother's Brewing in Springfield, Mo. — but you never know what you might came across in a brewery store. From mustard made with the brewery's beer bottle cap earrings.
And as long as you've taken the time to visit the brewery … well, you know the rest.