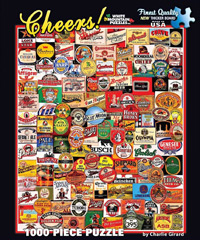 Sorry, doing jigsaw puzzles and drinking beer might make you free smarter, but there is no proof it actually works. We're fine with the fact it can be fun. More so when the puzzle has a beer theme.
There must already be rules for an accompanying drinking game.
The puzzle pictured here is one of several beer-related puzzles at Amazon, but you can find them at a surprising range of places, like Toys"R"Us or your local bookstore.
Just remember to assemble responsibly.