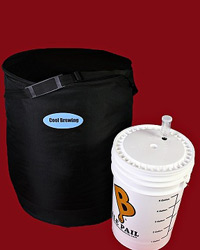 It's always a sad day when a beer doctor suggests to a homebrewer that her or his beer might be "fermentably challenged."
The Cool Brewing Fermentation Cooler works much more effectively to keep fermentation temperatures from soaring, and thus ruining a batch, than swamp coolers or other homemade coolers.
It is designed specifically to accommodate standard 5-gallon and 6.5-gallon fermentation buckets and carboys, and is built to hold ice packs, ice, or anything cold (such a frozen-2-liter jugs) and 100 percent waterproof. It costs $56 plus shipping.