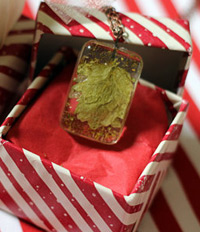 The Etsy store bin52 offers accessories made by a homebrewer for homebrewers and craft beer lovers. All pieces are made with real grains and hops.
The "Hop Queen Whole Leaf Hop Pendant Necklace" is pictured here.
A search at Etsy using the word beer will return more than 60,000 options, so you might want to include a second words, such as hops, ornament, earring or . . . use your imagination.