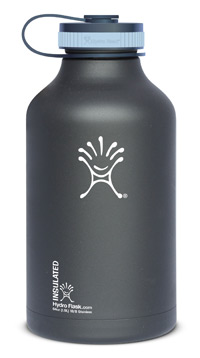 We're well aware that there's been plenty of debate in the beer world about the good, the bad and the occasionally ugly of beer growlers. What's obvious is that if you invest in your own you should take good care of it, keep it clean and remember to drink you beer in a timely way.
With a suggested retail price of $49.99, Hydro Flask Growlers are definitely high end, both in look and feel. Hydro Flask makes containers in a variety of shapes and sizes, ranging from 12 ounces to 64, the largest intended to keep beer in better shape than the standard glass growlers used by most brewpubs.
Hydro Flask states its containers will keep cold liquids chilled for up to 24 hours and hot liquids steaming for 12 hours. They are cast from double wall vacuum insulated food grade 18/8 stainless steel, BPA-Free and resistant to bacteria and odors.
The growlers are available with a stainless finish, a Black Butte powder finish, or in copper brown.