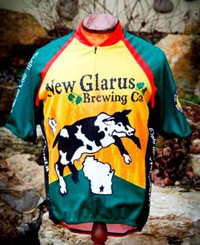 If you want to go for a bicycle ride with "Mirror Pond Ale" emblazoned across your front there's a shirt for that.
Or "Lone Star" or "Arrogant Bastard" or … well, you get the idea. Plenty of breweries now sell colorfully decorate cycling shirts, some featuring the name of the brewery most prominently, others a particular beer. If you can't find one in a brewery's gift shop you might visit its oneline store. In addition, there are stores that carry a variety of shirts.
The New Glarus Spotted Cow shirt pictured here is available in the brewery's online gift shop.