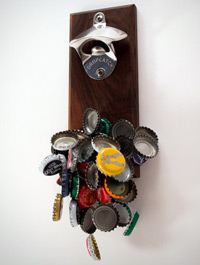 Looking for a simple, easy-to-use, maybe historic bottle opener? We can waste hours trying to pick from all those available at eBay.
But if you have a friend who is constantly stumbling over bottle caps that somehow end up on the floor, or one who might accuse you of doing your holiday shopping at garage sales then here's a fancier choice.
DropCatch is a wall-mounted bottle opener with a magnet inside, so those caps never hit the floor. It comes in different sizes (the larger one is said to hold 52 caps) and with a choice of hardwoods.