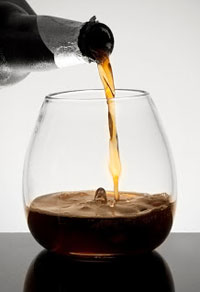 Pretty sure no brewery is giving away anything like Pretentious Beer Glasses on pint night. The one on the left will set you back $35.
There are so many beer glass options these days we're not inclined to endorse a single one. You can read a review of the Pretentious line from Jay Brooks or at The New School.
You can usually find interesting glassware — often branded, but that's part of the fun — at stores that sell the sort of beer we talk about here.
And now we're going to break the "no endorsement" rule for New Belgium's "Glass That Gives" promotion, because you might call it a present that gives twice.